WORDS TO HYMNS BELOW (during services) – 521, 236, 596
One cannot help but be inspired when gratitude to God is expressed at our 7:30 Wednesday evening testimonial meetings.
In addition to instrumental prelude and postlude, and singing from the Christian Science hymnals, you will hear short readings, prepared by the First Reader, with a focus on a timely subject.
Similar to the Sunday sermons, the readings are a compilation of citations from our Pastor: The Bible and Science and Health with Key to the Scriptures by Mary Baker Eddy.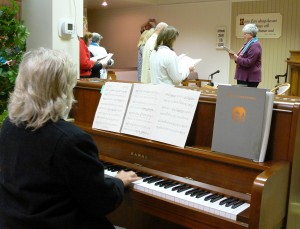 The readings are followed by invitation to the congregation to share testimonies of healing or insights they have received through the study of Christian Science. These testimonies are important evidence that Jesus' teachings and message are just as dynamic today as they were two thousand years ago.
You can now call in or use Zoom to participate in our Wednesday evening Testimony Meeting!  We begin the call at 7:20pm on Wednesdays so you can hear the piano prelude prior to the service, which starts at 7:30pm.  Dial 1-669-900-9128, then enter 899 080 5506# # when prompted. You will need to enter the # sign once more, then you will then be CONNECTED.  For computer: https://zoom.us/j/8990805506
We look forward to having you join us!
_________
WEDNESDAY TESTIMONY MEETING
First Reader: Kathy Shockency
Pianist: Sue Bringhurst  Vocalists: Courtlyn Reekstin and Scott Reekstin
Hymns (posted on Wednesdays):  521, 236, 596
_____
Hymn 521
Let there be peace on earth,
and let it begin with me.
Let there be peace on earth,
the peace that was meant to be.
With God our creator,
we are family.
Let us walk with each other
in perfect harmony.
Let there be peace on earth;
let this be the moment now.
With every step I take,
let this be my solemn vow:
To take each moment
and live each moment in peace eternally!
Let there be peace on earth,
and let it begin with me.
WORLD PEACE
Words Jill Jackson
Music Sy Miller; harm. Charles H. Webb
_____
Hymn 236
O peace of the world, O hope in each breast,
O Bethlehem star that ages have blest,
A day of fresh promise breaks over the land,
Gaunt warfare is doomed, and God's kingdom at hand!
From cannon and sword shape tillers of soil,
No more let dire hate man's spirit despoil,
Let Truth be proclaimed, let God's love be retold,
That men of good will may their brethren uphold.
As stars in their courses never contend,
As blossoms their hues in harmony blend,
As bird voices mingle in joyful refrain,
So God's loving children in concord remain.
Our God is one Mind, the Mind we adore;
Ineffable joy His love doth outpour;
Let nations be one in a union of love,
God's bountiful peace, all earth's treasures above.
HANOVER 
Words: Irving C. Tomlinson
Music: William Croft
_____
Hymn 596
When peace like a river flows calmly each day,
Or sorrows like seas surge and roll;
Whatever my lot, Love has taught me to say
It is well, it is well with my soul.
(Refrain:) It is well (it is well)
With my soul, (with my soul,)
It is well, it is well with my soul
Though terror may buffet, my joy is innate.
This unchanging thought is my goal:
That God has created my spiritual state,
And has given me strength in my soul.
(Refrain)
Lord haste the day, when my faith shall be sight,
The clouds be rolled back as a scroll;
When trumpets shall sound, and we all see the light,
I will sing, it is well with my soul
(Refrain)
VILLE DU HAVRE
Words: Horatio G. Spafford, adapted
Music: Philip P. Bliss