WORDS TO HYMNS BELOW (during services)  215, 501, 459 
One cannot help but be inspired when gratitude to God is expressed at our 7:30 Wednesday evening testimonial meetings.
In addition to instrumental prelude and postlude, and singing from the Christian Science hymnals, you will hear short readings, prepared by the First Reader, with a focus on a timely subject.
Similar to the Sunday sermons, the readings are a compilation of citations from our Pastor: The Bible and Science and Health with Key to the Scriptures by Mary Baker Eddy.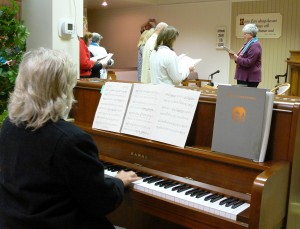 The readings are followed by invitation to the congregation to share testimonies of healing or insights they have received through the study of Christian Science. These testimonies are important evidence that Jesus' teachings and message are just as dynamic today as they were two thousand years ago.
You can now call in or use Zoom to participate in our Wednesday evening Testimony Meeting!  We begin the call at 7:20pm on Wednesdays so you can hear the piano prelude prior to the service, which starts at 7:30pm.  Dial 1-669-900-9128, then enter 899 080 5506# # when prompted. You will need to enter the # sign once more, then you will then be CONNECTED.  For computer: https://zoom.us/j/8990805506
We look forward to having you join us!
_________
WEDNESDAY TESTIMONY MEETING
First Reader: Kathy Shockency
Pianist: Sue Bringhurst  Vocalists: Courtlyn Reekstin and Scott Reekstin
Hymns (posted on Wednesdays): 215, 501, 459
Hymn 215
O happy is the man who hears
Instruction's warning voice;
And who celestial wisdom makes
His early, only choice.
For she has treasures greater far
Than east or west unfold;
And her rewards more precious are
Than all their stores of gold.
According as her labors rise,
So her rewards increase;
Her ways are ways of pleasantness,
And all her paths are peace.
Michael Bruce
CAITHNESS
Scottish Psalter, 1635
_____
Hymn 501
I love Your way of freedom, Lord,
To serve You is my choice,
In Your clear light of Truth I rise
And, listening for Your voice,
I hear Your promise old and new,
That bids all fear to cease:
My presence still shall go with you
And I will give you peace.
Though storm or discord cross my path
Your power is still my stay,
Though human will and woe would check
My upward-soaring way;
All unafraid I wait, the while
Your angels bring release,
For still Your presence is with me,
And You do give me peace.
I climb, with joy, the heights of Mind,
To soar o'er time and space;
I yet shall know as I am known
And see You face to face.
Till time and space and fear are naught
My quest shall never cease,
Your presence ever goes with me
And You do give me peace.
Violet Hay, alt.
FOCUS
Andrew D. Brewis
_____
Hymn 459
Come, gracious Spirit, heavenly Love,
With light and comfort from above;
Be Truth our guardian, Love our guide,
O'er every thought and step preside,
Be God our guide.
The light of Truth to us display,
That we may know and choose Your way;
Plant holy joy in every heart,
That we from You may ne'er depart,
Plant joy in every heart.
Lead us, O Christ, the living Way,
Nor let us from your precepts stray;
Lead us to God, our heavenly rest,
That we may be forever blest,
Forever blest.
Simon Browne, adapt., alt.
ORCHARDS
Andrew D. Brewis