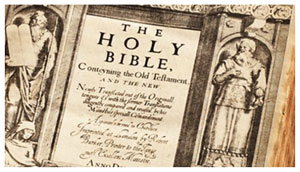 The Holy Bible is the foundation of Christian Science study and practice. The first tenet of the Christian Science church states "As adherents of Truth, we take the inspired Word of the Bible as our sufficient guide to eternal Life." Subsequently, Christian Scientists embrace every opportunity to better reveal and understand the Scriptures' inspired word.
Although the Sunday Bible Lessons Sermon and the Wednesday Testimony Readings are predominantly developed using the King James Version of the Bible, Christian Scientists include a wide range of Bible translations, concordances, dictionaries, and commentaries in their study of the Bible (Old and New Testaments). Many of these are available in the study lounge at the Christian Science Reading Room for public use.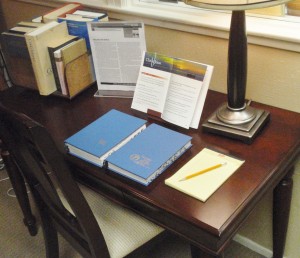 The prime resource for Christian Science Bible study is the Christian Science text book Science and Health with Key to the Scriptures by Mary Baker Eddy. As the name suggests, this book helps unlock the spiritual and healing messages of the Bible in anyone's spiritual journey. Subsequently, this book is a constant companion book to the Bible in Christian Science study. In fact, the ordained Pastor of the church is the combination of these two books: the Bible and Science and Health.
Science and Health is available in a variety of formats, as well as in 17 languages and English Braille. The book is dedicated to thinkers and "honest seekers for Truth" (Science and Health, p. xii: 23). Letters from readers testifying to healings resulting from simply reading the book can be found in the last chapter.
The full text of Science and Health with Key to the Scriptures can be explored online at http://christianscience.com/read-online.
In addition to Science and Health, various other works by and about Mary Baker Eddy help reveal the blessings of the Scriptures.
Those investigating or studying Christian Science may also benefit from some useful application software packages such as the following:
Concord: An expansive study resource that enables you to dig deeper into the essential writings of Christian Science — search words and key passages, read and annotate the books with your own notes, and compile and organize citations within your Notebook. Concord includes: the King James Version of the Bible, Science and Health with Key to the Scriptures by Mary Baker Eddy, Eddy's other writings, the Christian Science Hymnal with the Christian Science Hymnal Supplement, together with a Hymn Player.