Please join us for our Thanksgiving Service on Nov. 26th! Use our regular Zoom or Call-in platform (instructions on the right side of this page). Music begins around 9:45am, and the service usually ends around 11am. 
Sunday Bible Sermon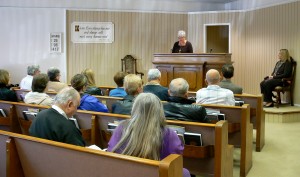 The Sunday Bible Lesson Sermon is designed to bring you inspiring ideas and healing truths which bring peace, joy, strength, and comfort.
The founder of our church, Mary Baker Eddy, appointed the Bible and her textbook, Science and Health with Key to the Scriptures, as the Pastor of our church. So the centerpiece of the Sunday service is the Bible Lesson Sermon read from these two books.
The service is conducted by two readers who are selected from our membership and are members of The Mother Church, The First Church of Christ, Scientist in Boston, Massachusetts.
_______
Sunday Hymns:    (words posted on Zoom screen on Sunday morning)
____
First Reader: Kathy Shockency, Second Reader: Jodi Fielding
Pianist: Sue Bringhurst  Vocalists: Courtlyn Reekstin and Scott Reekstin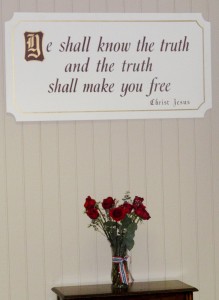 Order of Service
The Sunday morning service includes:
Musical prelude
Hymn
Brief Scriptural reading
Silent Prayer
The Lord's Prayer with its spiritual interpretation
Hymns
Announcements
Solo musical offering
Lesson Sermon
Collection *
Hymn
The Scientific Statement of Being (from Science and Health)
Correlative Citation from I John 3:1-3
Benediction
Musical postlude
* Collection – Contributions may be sent to:
First Church of Christ, Scientist, 18343 Lemon Dr., Yorba Linda, CA 92886   (Questions and Reading Room orders: 714-777-2391)
___
____________________________________________________________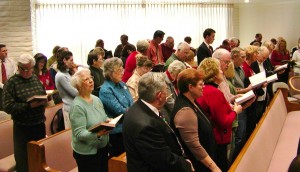 Over the years, people have found healing of physical and mental ills, relationship issues, unemployment, financial concerns, and school problems through regular study of each week's Bible Lesson. As you study the passages from the Bible, together with insights from the Christian Science textbook, Science and Health with Key to the Scriptures by Mary Baker Eddy, you will find answers to your needs.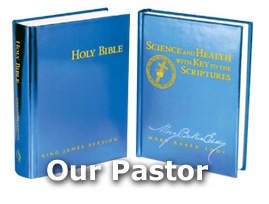 There are 26 Bible Lesson subjects. A new lesson is developed and published for each subject twice a year and shared worldwide as the focus of that week's Sunday sermon. These Lessons are available for individual study throughout the week prior to being read as the sermon on Sundays in Churches of Christ, Scientist, worldwide. Each Lesson includes selections from the Bible with correlated references from Science and Health with Key to the Scriptures.
Following each lesson's Golden Text and Responsive Reading, the sections develop different aspect of the subject. Bible verses are read first in each section, followed by passages from Science and Health, which reveal the spiritual meaning of the Scriptures.
The 26 Lessons are:
God
Sacrament
Life
Truth
Love
Spirit
Soul
Mind
Christ Jesus
Man
Substance
Matter
Reality
Unreality

Are Sin, disease, and Death Real?
Doctrine of Atonement
Probation After Death
Everlasting Punishment
Adam and Fallen Man
Mortals and Immortals
Soul and Body
Ancient and Modern Necromancy, alias Mesmerism and Hypnotism, denounced
God the Only Cause and Creator
God the Preserver of Man
Is the Universe, Including Man, Evolved by Atomic Force?
Christian Science
The Christian Science Bible Lessons are available in the following formats:
Citation edition (listing of references for reading directly from the books)
Full Text edition (complete Lesson with all citations printed, ready to read)
Spanish study edition (the complete Lesson in Spanish and English)
Study edition (large print)
Bible Lesson Audio/print edition at https://quarterly.christianscience.com/, which includes helpful Bible notes, word definition, and study questions.
Please visit our Reading Room for additional information regarding the Bible Lesson Sermon, or visit the website www.ChristianScience.com.