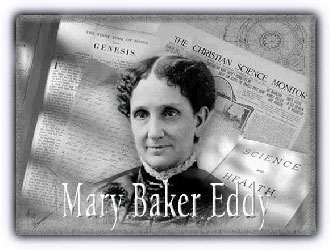 Mary Baker Eddy is best known for discovering and founding a Bible-based system of healing through prayer, known as Christian Science. She established the Church of Christ, Scientist to preserve and extend this prayerful healing work. Mrs. Eddy's accomplishments also include being a spiritual healer and author of many books (her best known is the textbook, Science and Health with Key to the Scriptures). She was also publisher of two magazines ("The Christian Science Journal" and "The Christian Science Sentinel") and of a world class, award winning, newspaper, "The Christian Science Monitor." All are still in publication and can be purchased at Christian Science Reading Rooms everywhere, including ours, located at 18343 Lemon Drive., in Yorba Linda.
Mrs. Eddy was born on July 16, 1821 in Bow, New Hampshire. She was raised as a Congregationalist and was an avid student of the Bible. Her parents encouraged Mary to get the best education available to a woman of that time. Mary was chronically ill from her youth and through the years she investigated many medical and other healing systems of her time. These included hydropathy, homeopathy, and hypnosis. Through years of dedicated study, she gained a clear insight into the mental factors of health and healing. Her study of the Bible revealed that spiritual healing was not limited to the Biblical times of Christ Jesus, but was an ever present help to all who seek the truth. After years of healing work, publishing her spiritual understandings, establishing a college, teaching many others and giving them the skills to heal spiritually, and establishing and building a church, (The First Church of Christ, Scientist, in Boston Massachusetts) Mrs. Eddy's work was complete. She passed on in 1910 at the age of 89, knowing that her work would inspire the world and withstand the test of time.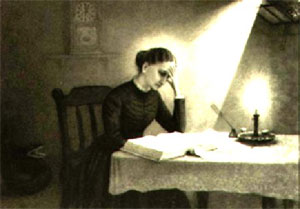 Mary Baker Eddy is regarded as one of the most influential women in American history. In 1992 the Women's National Book Association recognized her Science and Health as one of the 75 books by women "whose words have changed the world." In 1995 she was elected into the National Women's Hall of Fame.
Note: Though Christian Scientists appreciate and revere Mrs. Eddy for her discovery and selfless sharing of Christian Science with the world, they do not worship her nor consider her works as replacing the Christian foundation, the Holy Bible. They recognize her struggles, strife, revelations, growth, and victories to be part of the discovery of the God-given Science of Christ that has been and ever will be available to humanity. Subsequently, a variety of biographies have been published about Mrs. Eddy, making her discovery more accessible to mankind.
For further information about Mrs. Eddy, you can visit The Mary Baker Eddy Library at www.marybakereddylibrary.org or http://christianscience.com/questions/about-mary-baker-eddy or visit our reading room and book store at 18343 Lemon Dr. in Yorba Linda or call 714-777-2391.